The Peguis Foundation Inc.
Spirit and the Land Excursion Camp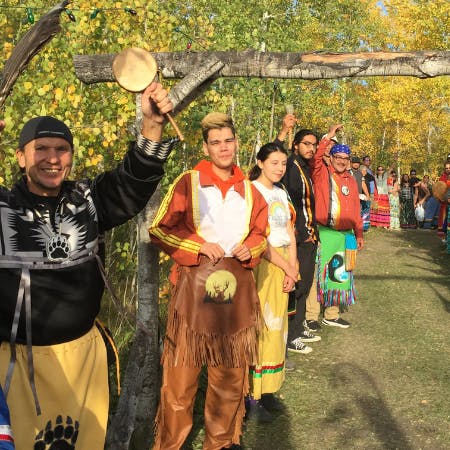 The Peguis Foundation Inc. Spirit and the Land Excursion Camp brought 116 youth out on the land to experience culture, music, arts, and land-based learning through eight different day camps. The planning team was committed to get youth outside and on the land during different seasons, even under the pandemic conditions. Each camp day started with a ceremony lead by community Elders and each had a different focus.
The many camps focused on several themes: Elder care and how youth can be more helpful and supportive to our community elders; camps on traditional craft making skills of ribbon skirts, shirts, shields, moccasins and drum making; on the land medicine picking, medicine pouches and teachings; the sweat lodge camp included the material gathering of wood and rocks; the land based skills of fishing and lunch preparation on the local beaver pond.
These camps brought Elders and Youth together and each day's activities brought excitement and positive learning experience. The program helped bring youth together and helped strengthen family connections through cultural programming and teachings.
Join our List!
Join our mailing list for news, updates, and deadline reminders delivered to your inbox!